Lasting Memories – Birthday Keepsakes
Lately I have been struggling as a mom watching my youngest grow so quickly and become a big, independent girl. I am so proud of her as I watch her learn new things and discover the world around her. However, those memories of her so young and needing her mama for every little thing are quickly fading. What a bittersweet process parenting is, that push and pull of wanting your child to learn and grow, but wanting to stop the hands of time simultaneously.
Birthday Keepsakes is on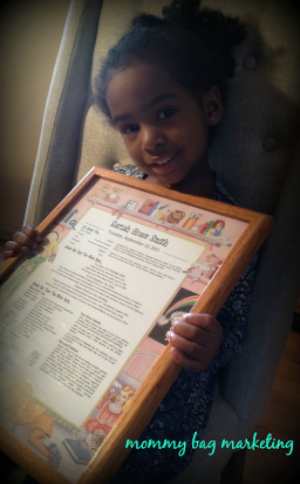 e of our national sponsors, and we are proud to promote their products. They have been specializing in personalized gifts since 1994. Each of their products can be uniquely personalized to help keep those memories intact.
They offer a variety of products for babies, children and adults. I was able to order a Birthday Keepsakes Day You Were Born Print as well as a Personalized Children's Book.
From the ordering process to timely receipt of my items, I felt like I was able to order special keepsakes that all of us will cherish.
The Day You Were Born Print includes the child's name, name meaning, birth date, birth information and a lot of fun facts (past and current) about that very special day! It is really like a birth announcement that you'll cherish forever.
The Personalized Children's Book that I received showed adorably rendered animals bringing letters to spell out my daughter's first, middle, and last name. I urge you to click through above to the website as this book is simply too cute to describe with words.
I have GREAT news! You can place an order with Birthday Keepsakes too, as they are generously offering one of you an e-certificate to purchase your own keepsake.
Enter below, and please check out Birthday Keepsakes on Facebook, Twitter and Pinterest.